Short information about me
My name is Fabian Mast.
I was born on the 1st of january in 1999 and am currently living near Bern in Switzerland.
In 2017, I finished my apprenticeship as an electronics technician.
These are the most significant facts about myself.
In the picture you can see me moderating the space day of the AJB (astronomical youth club in Bern). Was a fantastic day!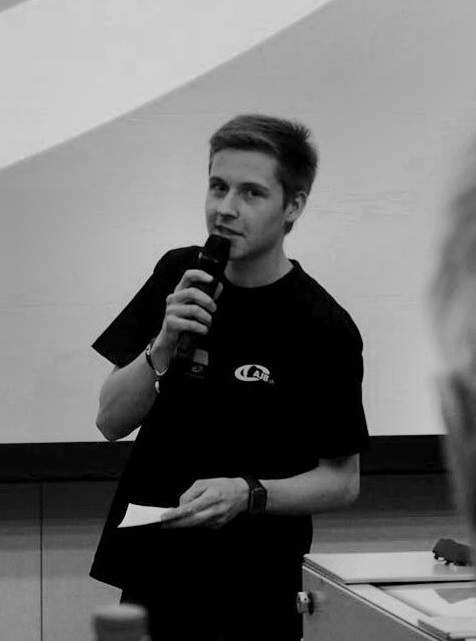 Why, when and how did I start with astronomy?
It all started with the transit of the planet venus in front of the sun back in 2004. Thanks to my family I was able to watch it and I was deeply fascinated!
In 2006 I received my first telescope as a present for christmas. I used it from time to time and watched the moon or planets like jupiter and saturn. But I got more and more annoyed of its shaky tripod…
That was the reason I lost interest in the activity of observing the night sky by telescope.
 2013 was the year of comets!
A family member who is also very interested in astronomy drew my attention to the upcoming comets of that year: C/2011 L4 (Panstarrs) in spring and C/2012 S1 (ISON) in autumn/winter. Sadly I missed Panstarrs (but captured it by accident), but ISON sounded very promising – but that came to nothing.
It broke apart during perihelion.
Fortunately, the comet C/2013 R1 (Lovejoy) saved the day! (or year…)
I got the chance to observe it several times with my new binoculars and also took some images with my digital camera.
During that period of time there were thoughts and desire inside my head to buy a professional telescope. Things took their course and by the beginning of 2014 the purchase was complete! A Skywatcher 200/1000 newtonian telescope with the NEQ6 Pro joined our family.
Just in time to observe the supernova SN 2014J. What a happy coincidence!
But as summer 2014 approached, I felt more and more that there was something missing. Observing the night sky with all its objects was awesome but everything was gone by standing away from the eyepiece. And I wanted to see more! I took the unavoidable next step and purchased photography equipment for astrophotography.
The first object I captured was the dumbbell nebula (M27). You can find this picture in my Deep Sky section "Nebulae".

What equipment do I use?
Optics
Skywatcher 200/1000 (8″ f/5) Newton
TS-Optics PHOTOLINE 115-mm-f/6,95-Triplet-Apo
50mm f/1.8 Canon lens
APM 2.7x coma correcting barlow
TeleVue 5x Powermate barlow
Cameras
Canon 600Da (astro modified)
QHY183c
Alccd5l-iic
ASI174MM (belongs to the AJB)
Mounts
NEQ6 Pro
Self-made barn door tracker
Filters
Astronomik UV/IR cut
Hutech IDAS LPS-D1